Neon yellow nails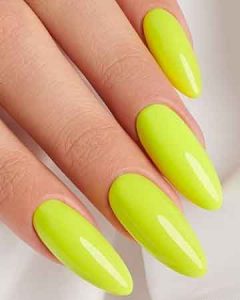 As the trend of The Times changes and evolves continuously, the nail supply online is changing with each passing day. Today we go back to talking about nails and we do it talking about a color: neon yellow. In this post, we put together short, medium and super long nails. We have collected nails of all shapes: square, oval and pointed. And we have put together all the most popular nail art trends and techniques.
For neon yellow nails that stand out it is not necessary to have very long nails. But one factor that emphasizes neon yellow nails is definitely a nice tan. It is no coincidence that nails of this color look very good on black women or in the summer.
If you are looking for some brand that offers enamels of this color you can choose between:
1) The NEON line of America Appareal
2) Sinfull Colors
3) Essie – Funky Limelight color
4) OPI – Life Gave Me Lemons
You can combine neon yellow nail polish with black, blue but also with less obvious colors such as dove gray. You can make a French, combine it with an accent nail or create geometric designs using the adhesive strips.
As for the make-up to combine with this type of enamel and nail art, you can choose between:
– A very colorful smokey with fuchsia glossy lips
– A simple line of purple or electric blue colored eyeliner
– A very light smokey eye with nude tones combined with a "sun glow" style complexion
What are you waiting for? you just have to give vent to your imagination and your creativity. Hoping to have been helpful!
Read also:Half moon nails: bezel nails