How to make an express French manicure?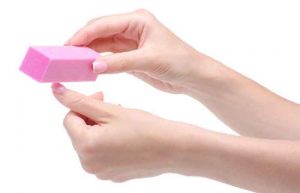 Achieving a French manicure takes time and sometimes even looks complicated and lengthy. Even the simplest French manicure can be difficult to do yourself, especially when you are in a hurry. However, your nail supply expert Maryton will tell you how to make an express French manicure.
Thanks to this express trick, you will be able to perform a French manicure in just a few seconds. This exercise is carried out in four stages:
Dye the nails evenly with the base color of your choice.
Take the makeup sponge and apply white color to the surface using brushes.
Press your finger into the sponge in order to create an arc on the edges of the nails.
Then rotate the nail on the sides until you get an arc.
This technique is quite practical and effective in case of emergency. In addition to rigor and a good touch, this application also requires speed since the varnish dries quickly. In addition to enjoying a saving of time, it also saves you a lot more varnish.
OK! You have know how to make an express French manicure! In addition, you also need a gentle manicure set to prepare your nails.
Read also: STEPS TO MAKE A FRENCH MANICURE