Pamu Slide a True Wireless Headphones Support Bluetooth 5.0, APTX, and IPX6 Waterproof
PaMu Slide – the latest various of Padmate headphones is a very lightweight earphones, support Bluetooth 5.0, IPX6 waterproof, comfortable to wear and no distractions. Is a new design headphones with a smaller size. Inside the headphones are using Qualcomm QCC3020 Bluetooth chip, supports popular codecs, aptX, SBC and AAC, providing better sound quality than before. And save more energy than before, listen to music for longer.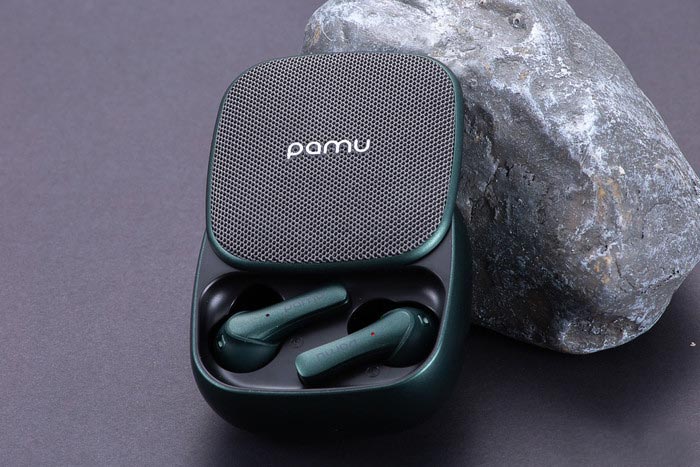 It comes with a built-in earphone charger case, small size, easy to carry, fits perfectly in your hand, take 1. 5 hours for a fully charge of headphones, and can be used for up to 10 hours. In addition, the headphones also support Auto Pairing. When removed from the case, the pamu slide can be used immediately. Playback, answering calls is easy with the touch control. It comes with a built-in microphone, with Dual Mic noise reduction for clear communication. The headphones provide complete sound quality. Easy listening, relaxing with the nature of the sound. The headphones are ergonomically designed. Comfortable to wear, does not easily fall out of your ear. Buy using IPX6 waterproof, eliminating worry from rain or moisture or even sweat while doing activities.
Using the Qualcomm QCC3020 chip, the chip that most TWS wireless headphones around the world use because it is very stable, supports Aptx, low power consumption. Signal transmission is more stable. Therefore can be used for longer. Comes with a built-in dual microphone, supports noise reduction technology for clear conversations in all environments. Comes with a case that can charge the headphones. The case comes with a battery with a capacity of 2000 mAh. Can standby up to 45 days and compatible with many devices. Mobile phones in Android, iOS Windows, Siri or even Google Assistant are supported.