Nails: the main manicure trends for spring 2022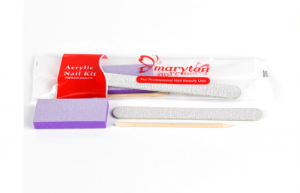 Spring is here and the trends that go with it too! So that you don't miss a thing, we are revealing to you today the manicures that will be all the rage to welcome the beautiful days, this spring 2022. From vitaminized colors to fresh and elegant looks, we give you all the cards to be trendy this spring and this, down to your fingertips. We tell you everything! Keep reading!
Nail polish colors not to be missed in spring 2022
Spring 2022 is a sign of color and originality! After the passage of winter, we understand that we may need a little vitality, even on our nails. We put away the neutral and cold colors and we adopt more joyful and showy colors. Among them, we especially retain:
Green:a bold and elegant color, green is the color for the arrival of spring. In addition, the one that was present everywhere on the catwalks of the spring fashion shows comes in a multitude of shades.
Blue:a color full of pep, blue will dominate in this year 2022. A trendy color in make-up, it is also making its way into manicures.
Orange:if there is a perfect color for the arrival of the sun, it's orange! From the classic orange to the blood orange, this color perfects all skin tones.
Peach:delicate and light color. It is an ideal shade for people who do not want to wear too flashy a color, but who are still looking for a little originality.
Pink: a color that reminds us of flowers and spring. From powder pink to fuchsia pink via pearl pink, it comes in a range of shades.
Purple: If there is one color that you absolutely must adopt this year, it is this one. Elegant, deep and chic, purple has a bright future ahead of it.
Trendy manicure designs of the season
When it comes to manicure, getting the right colors is one thing, getting the right patterns and styles is another. In this spring of 2022, the essentials are:
The French manicure revisited:a true timeless manicure, the classic French manicure is giving way this spring to more original versions.
Black minimalist nail art:black is still here this year, but in a more minimalist and light version, transforming into discreet, sober and super classy nail art.
The flowers: From stick-on patterns to intricate nail art, flowers are undoubtedly thepattern to wear in the spring.
Rhinestone jewelry: on our eyes and even on our teeth, rhinestones, trends during the 2000s, are making a comeback and even on our nails.
Two-tone / multicolored nails: This season, two-tone and multicolored nails are coming to our house and promise bold and original looks.
Are you going to test? Take your manicure supplies into action! If you want to do it but suffer from no nail tools, don't be panic! We have everything all you need in nail supply store online.
Read also: "Biab" nails: discover this new hot manicure technique