What varnish for my feet this summer?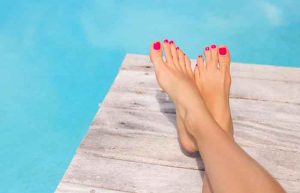 This summer, a wind of madness is blowing on our toes! Our feet are gradually attracted by the colorful nail polish. But, what is the best color for our feet? In flashy or pastel versions, adopt them according to your desires, but also according to your complexion.
1. What color with my complexion?
– The light ones will prefer variations of strong pink like fuchsia. The most discreet will adopt pastel colors, which are very fashionable, or nudes such as pinkish beige or sandblasted.
– Matte or already golden skin, the very trendy neon or Roland Garros yellows, water green or pastel turquoise are yours. The classics, such as vermilion red or blood orange, are always your best assets to enhance your tan.
– Finally, very fashionable, deep blue, matte or electric, which suits fair skin as well as golden skin.
2. Mix and match possibilities
– Don't hesitate to combine mismatched colors on the hands and feet, but without ever playing the flashy or pastel total look card. Less stressed, the varnish stays impeccable longer, and the colors are more fun!
– With your sandals, bet instead on complementary colors, such as electric blue with orange, or yellow and water green. With bare feet like bronze, prefer flashy pink or more simply a French manicure.
3. Beautify your toenails
– Give them an almond shape with a thick grain file.
– Use nail clippers rather than scissors, so as not to lift or deform the nail.
– Ensure your color has a long-lasting hold by applying, once your cuticles have been pushed back, a treatment base or peel off.
– Apply your nail polish without touching the cuticles or the edges of the nail. Leave to dry for 5 minutes between the superposition of the two thin coats.
– Prefer the use of a top coat in gel version. Thicker, it will be a better guarantee of a long-lasting manicure.
All right! Take out your pedicure supplies and try it out right now! Moreover, to discover more products to realize your Halloween nail art just click our Matyton nail supply.
Read also: Nail Polish: Adopt The Trends Of This Summer